'Create a memory to last a lifetime' promises Mountaingate Country Club. With elegant indoor and open-air space to use, this luxury Los Angeles wedding venue won't disappoint! Take inspiration from Cindy and Adam, who opt for an all-round outdoor affair. From ceremony to reception, the happy couple choose to host an ethereal garden celebration inside its spacious grounds.
In terms of attire, the bride wears a chiffon and lace bead strapless gown. She pairs the gorgeous dress with a pair of light gold peep toe kitten heels. The bridesmaids, on the other hand, wear mint green dresses with lattice bead detail. A natural bloom is the choice bouquet, where cream flowers and verdant green leaves blossom.
But it's not just the wedding bouquet that boasts such soft tones! Cream petals blanket the aisle for Cindy to walk on. Similarly, crisp cream chairs form a stunning contrast to the lush greenery. The ceremony is made even more spectacular as the Santa Monica Mountains serve up a breathtaking backdrop. As the sun beats down on the basking guests, Cindy and Adam couldn't wish for a more heavenly vista if they tried.
Soon after, the reception begins. This time, gold touches add glamour to the décor. Each table also hosts a large, candle centerpiece. If you're hosting outdoors, consider arranging your candles inside clear canisters. (As seen in the photos below). This consequently shields the candles from any breeze and ensures they remain lit throughout the evening. For further light, Cindy and Adam string fairy lights across the trees. This proves exceptionally magical once day turns to dusk, as speckles of glimmering light add to the romantic atmosphere. Keep on scrolling to see the rest of this beautifully al fresco Mountaingate Country Club wedding!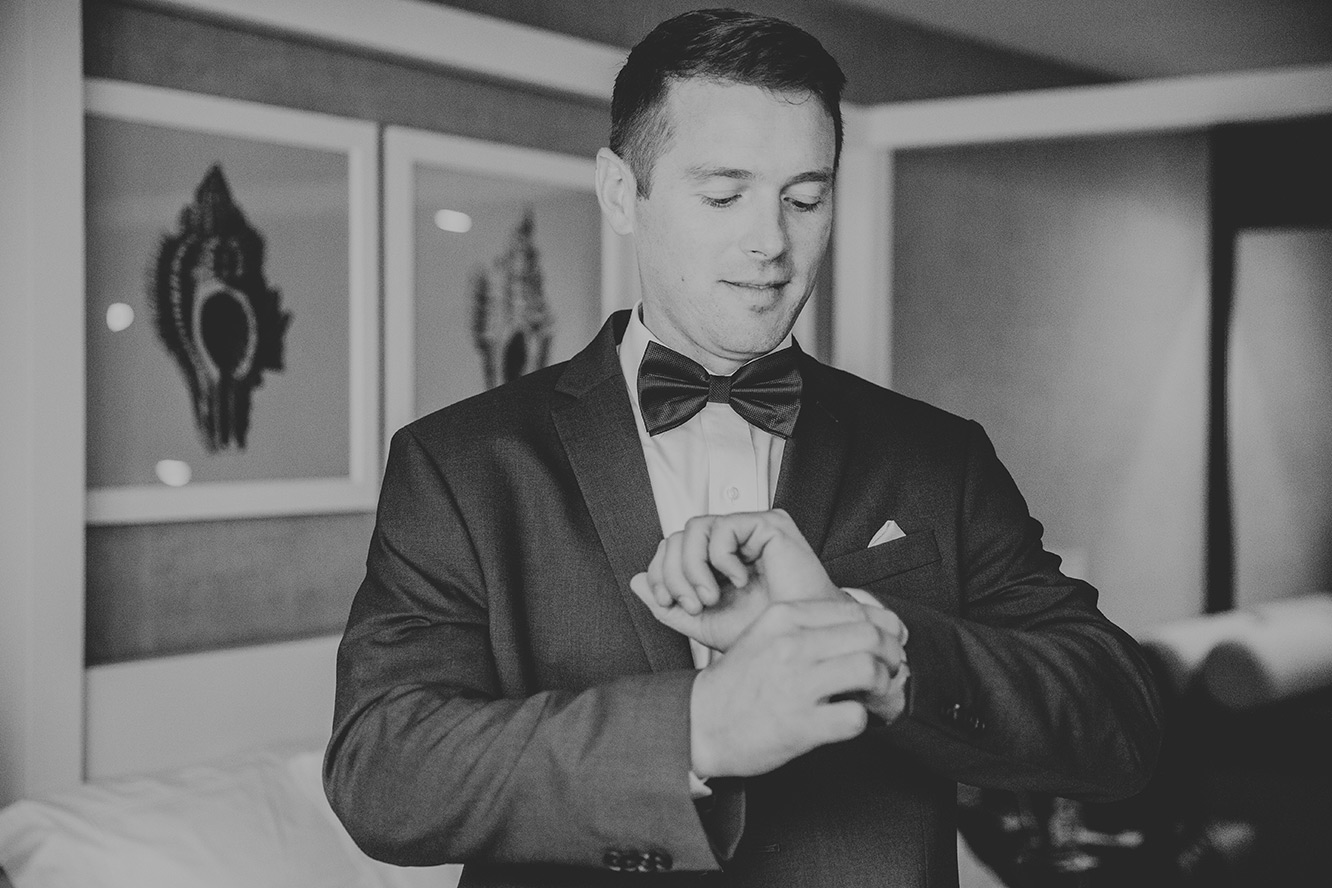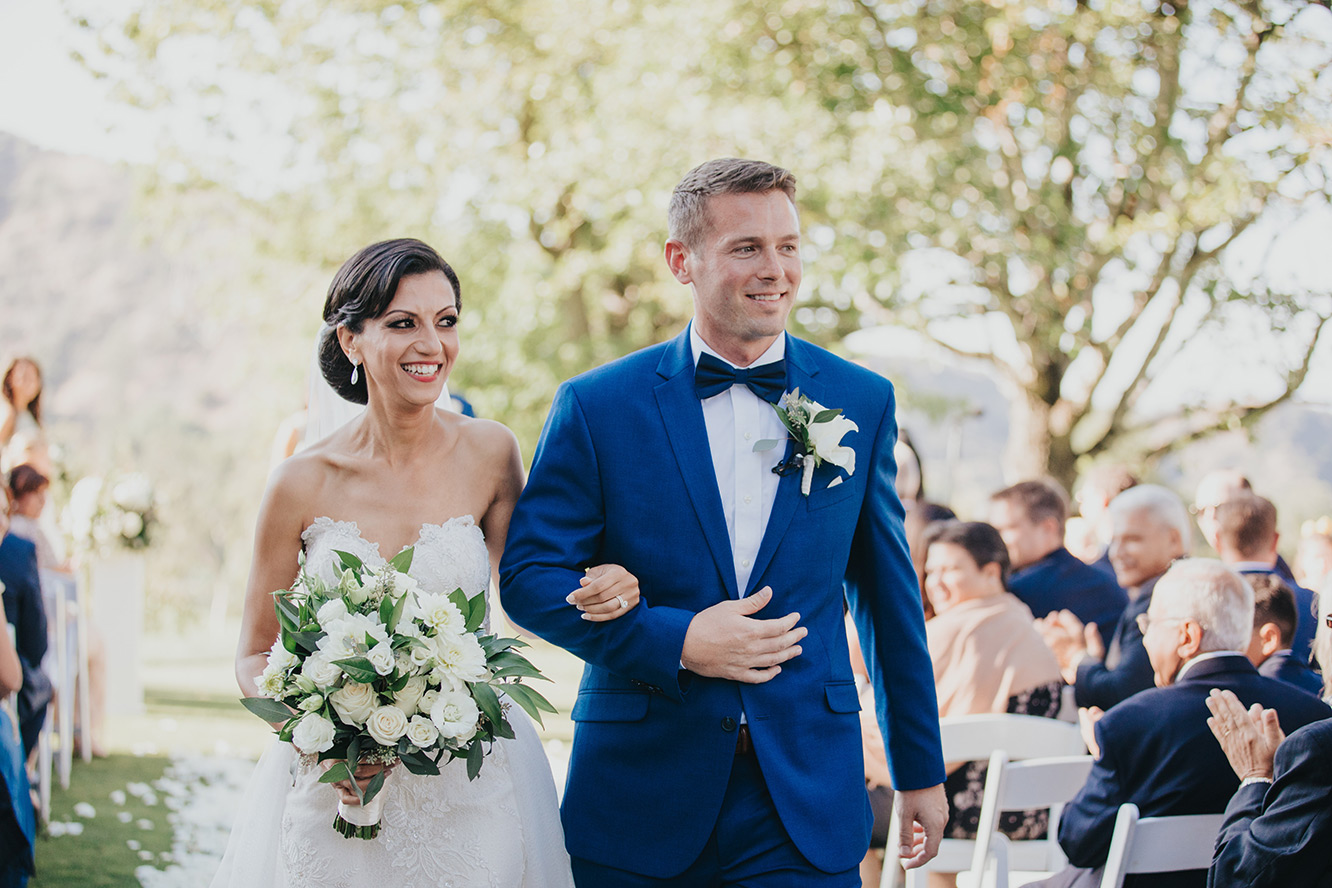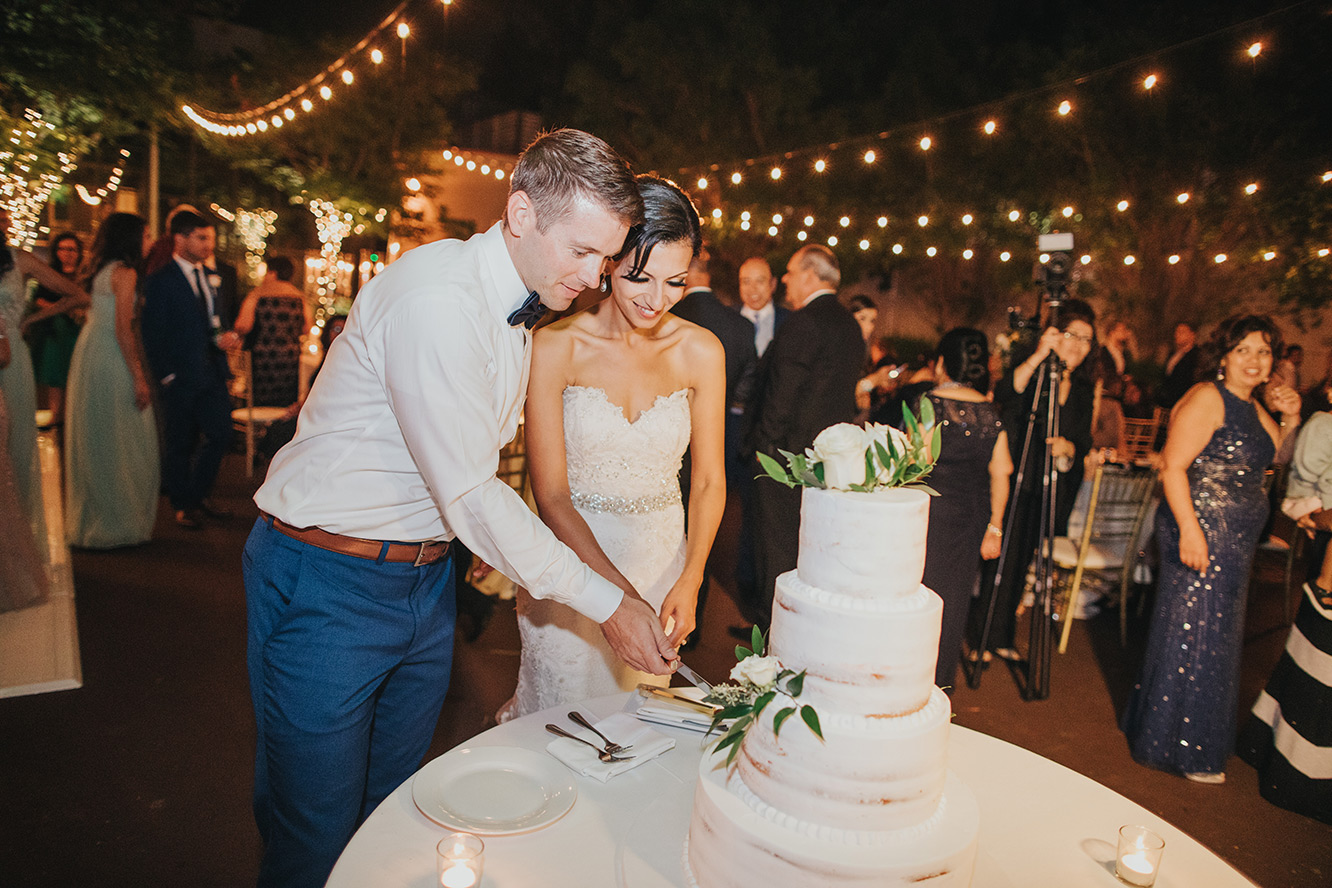 For an unforgettable outdoor occasion, consider a Maravilla Gardens wedding. This Southern Californian venue offers a unique space to celebrate in. It's a home away from home with stunning gardens designed for wedding use. In this case, Wingyun and Theodore make the most of the backdrop to host a magical garden wedding.
The bride opts for a strapless wedding dress, giving her opportunity to accessorize with body jewelry. As seen in the images, she drapes a delicate pearl chain over her shoulders. It goes together with her heels; a gorgeous gold pair of sculpted stilettos. In addition to this, Wingyun holds a wedding bouquet, made up of light pink roses and creamy pastels. The groom, on the other hand, selects a dark suit with violet tie.
To start, the patio holds arrival drinks. Lush gardens surround the guests and a superb Californian vista peeks through the cracks. There's also a keepsake box in the vicinity. 'Leave a note for the newlyweds', the chalkboard says. From date ideas to stories or even marriage advice, it's a fun way to involve guests. As well as this, it provides the happy couple with a funny memento to look back on.
Onto the wedding ceremony! Set beneath a swooping canopy, guests sit on white lawn chairs. Whereas a concrete path in the center makes the perfect aisle to walk down. The sun beats down on top of the central wedding party, where 6 bridesmaids each hold a mini parasol. After the couple exchange vows, they shoot romantic imagery in the barn. Wooden beams and hay bales give a rustic charm which only sets to compliment the glam couple. They then shoot further imagery in the garden, just as golden hour strikes. The combination of desolate fields and rich greenery makes for an ethereal photo series.
Finally, the wedding reception begins. Also set outdoors, another patio area transforms into a spacious garden party. Here, clean whites and stylish simplicity is the decor of choice. The wedding cake is a minimal 3-tier cream delight, with ivory detail and gold trimming. Surrounding cookies also offer a perfect treat to snack on. This is when wedding celebrations get into full swing. With music, dance and even sparklers, it's a magical end to a beautiful day. Continue scrolling to see some of our favorite images… they might just convince you to host your own Maravilla Gardens wedding!